Products and services for foundries
SEEIF Ceramic, a.s. develope and produce ceramic gating systems (ceramic holloware), which is formed by refractory shapes with high resistance to penetration by molten metal and is intended for single use in casting systems assemblies during the metal casting. As well produce ceramic closing systems for foundry and steel ladles, standard refractory shapes, insulating materials and many other refractory products for use in steel and iron foundries.
We offer full advice on the matter. For more information please contact our dealers.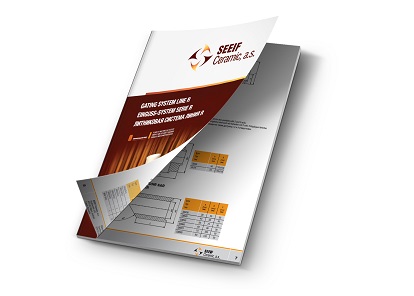 Ceramic gating system
Upgraded refractory casting bricks with high resistance to the penetration by molten metal.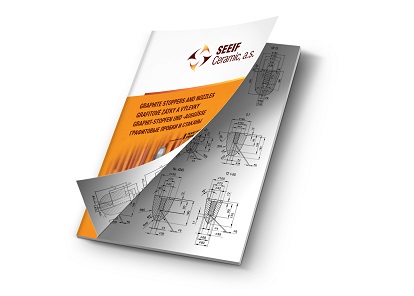 Ceramic components for closings of casting ladles
Refractory fittings which form a part of the closing system of casting ladles.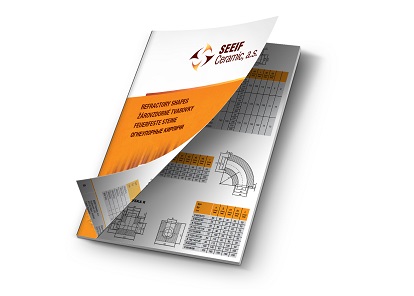 Refractory bricks
Standard machined refractory bricks.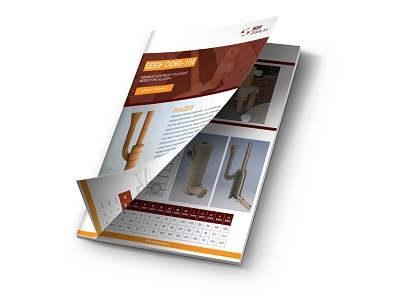 CERAMIC WHIRL GATE FOR FOUNDRIES
The ceramic whirl gates, so called slag traps, are widely used mainly in steel and ductile cast iron foundries.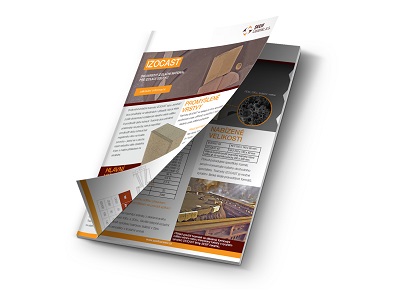 INSULATION IZOCAST
Two-layered insulating material for the casting insulations.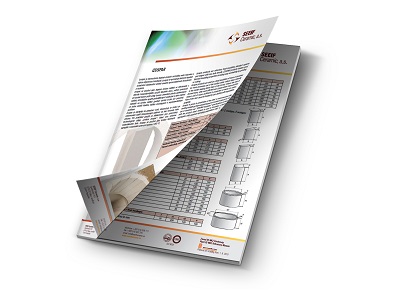 INSULATION IZOSPAR
Insulation of risers in foundries.
Ceramic Whirl Gate For Foundries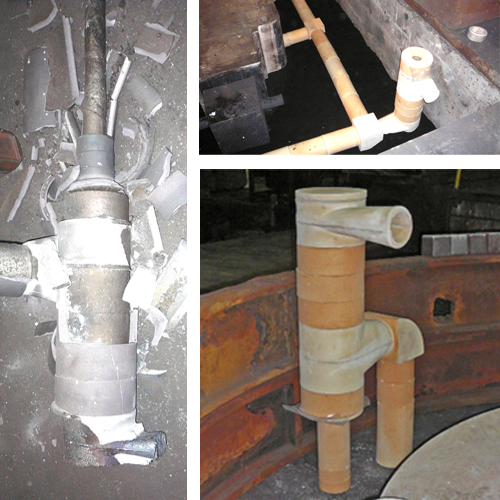 The ceramic whirl gates, so called slag traps, are widely used mainly in steel and ductile cast iron foundries. These parts of gating systems are operated on the principle of different volume density of melt, slag and others impurities. The whirl gates are installed in the casting routes. The molten metal from the casting route is thrown inside the vessel. During this rotational motion particles float towards the melt surface on the principle of different densities. Calm and cleaned metal is led through the distribution channels into the mould.
absorbs the primary melt shock and calms the flow by converting the turbulent flow into the laminar one
filters small and large impurities and the major part of drawn air
eliminates defects caused by human error in case of low technological discipline
is large enough to catch even higher volumes of impurities
in case of ladles with sliding closures catches filler particles
does not create secondary inclusions
metal does not "freeze" due to bad heat capacity
guarantees stable flow (compared with the filters, the whirl gate cannot be clogged)
does not slow metal flow rate
Available in several sizes depending on the diameter of the ceramic casting system.
Insulation Materials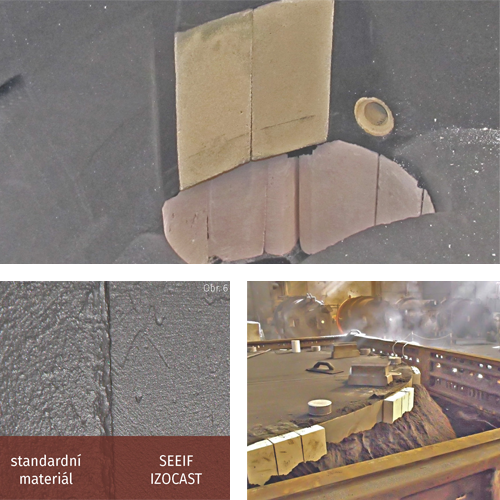 Insulation IZOCAST
Two-layer insulating shapes of the "sandwich" design are used in foundries, where it is necessary to increase the metal feeding distance of certain casting places or to extend the solidification time. The blocks are primarily placed on areas where is necessary to extend solidification time without compromising quality of the surface – we are speaking about the areas that will not be machined any more or that require only a small allowance for machining.
EXTENSION OF SOLIDIFICATION TIME – increase of the metal feeding distance in the necessary points of the casting.
WITHOUT ADDITIONAL MACHINING – thanks to a special working layer the places, where the IZOCAST products are applied, do not need to be machined any more and cleaned after removal.
EASY WORKABILITY – the blocks can be cut easily and shaped directly on the spot to particular requested dimensions.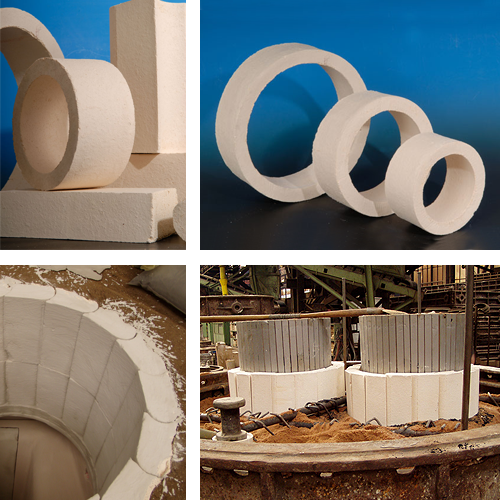 IZOSPAR – Insulation of Risers in Foundries
Izospar products are refractory heat-insulating standard squares
and shapes with low bulk density.
Izospar products are used as a heat insulation of risers in foundries
for more economic use of the molten metal, reduce labor intensity
in the molds making (lower tops of the forms), reduce the area of
burned risers, offer more efficient use of pads under risers and also
reduce cost of risers (sufficient is production of necks for cases).
Flow of the riser must be treated by exo-dusting with expandable
graphite.
Propetries:
| | |
| --- | --- |
| Bulk density | 600-800 kg/m3 |
| Cold crushing strength | min. 1 MPa |
| Refractoriness | min. 1 730 °C |
| Insulation coefficient | fiz 1,45 |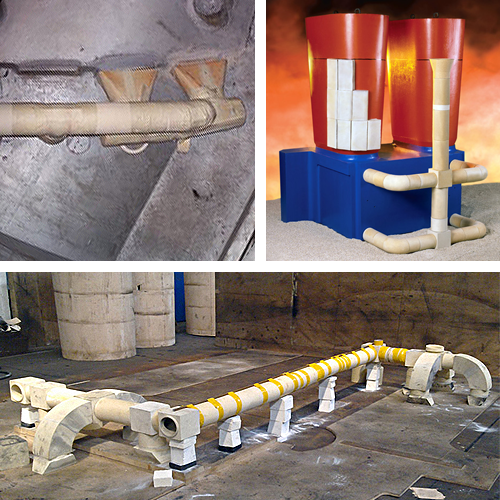 Casting Fireclay
Single use fireclay products for foundries and steelworks fits as the assembly of ceramic gating system during the iron casting. They are suitable for castings from 5 kg up to hundreds tons and are characterised by increased resistance against a penetration by molten metal.
Foundry holloware production range consists of funnels, tubes, adapters (reductions), elbows, T & L pieces, crevices, splash cores and other specialty shapes with inner diametres from 30 mm up to 150 mm.
Shapes are available in several grades according to the Al2O3 content.
| Quality properties | F36 | R-ML65 |
| --- | --- | --- |
| Al2O3 | 36 % | 65 % |
| Fe2O3 | 2,5 % | 2,5 % |
| Refractoriness | 1 700 °C | 1 780 °C |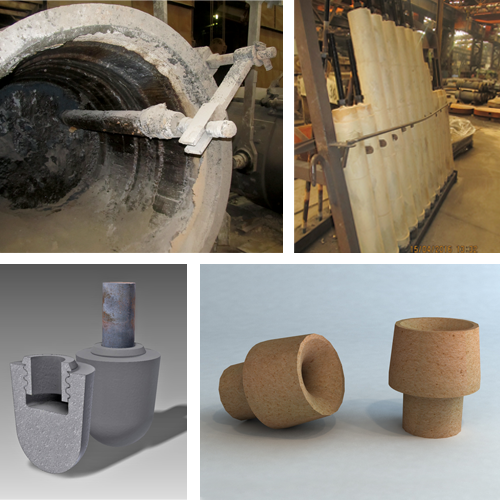 Refractory Products Forming a Part of the Closing Mechanism of Casting Ladles
Refractory products forming a part of the closing mechanism of casting ladles in a metal casting in foundries and smelting plants.
A complete set of components is produced:
Alumina stopper rod sleeves in grades F36, F40, S45
Alumina-graphite or graphite-corundum stoppers
Alumina nozzles in grade F40, high alumina nozzle in grades AN61C, B80, MK85CT and graphite-alumina nozzles in grades GS and GK.
The products are manufactured in different grades, depending on amount of C a Al2O3.
These products secures safe sealing of bottom pouring ladle opening, allowing safe repeated opening and careful draining of liquid metal. When bottom pouring ladle casting is used, there is no splashing of metal and therefore there is no oxygenation of cast metal. Using this system, a quality and purity of a metal is increased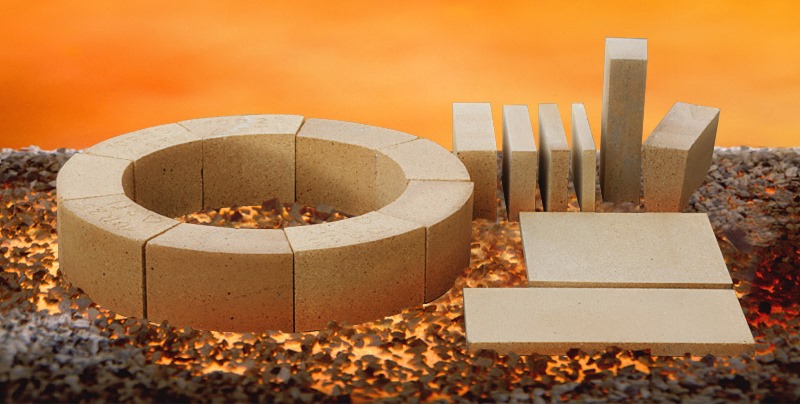 Refractory Bricks for Construction Purposes and Special Applications
Refractory shaped products made from a fireclay or high alumina clay designed for use in the metal casting and as construction and lining material.
inner walls and archs of steel, cement and glass industry units
structural and non-structural components and linings of chimneys, fireplaces, stoves and boilers
part of the closing system of casting ladles in metal casting
Shape assortment consists of nozzles, bricks, plates, blocks and varied shapes for industrial use. They can be produced by the individual customer requirements in a number of qualities from dry, semi dry and plastic matter.
Other Materials and Accessories
Monolithic Refractories for Foundries
Moulding mixes
Sands for foundries
Well powder
Refractory mortars and cements
Accessories for Foundry Industry
Silicon-carbide accessories
Pyrometric tubes SiC60
Degassing tubes SiC11
Graphite crucibles and ladle bowls
Monoblock stoppers